Property Management
Services
With over 20 years of Property Management and Real Estate experience, Stone Path Realty offers a full range of property management services tailored to you as an investor, homeowner, or landlord.
Our rental portfolio includes a mix of single family homes, townhouses, and condos for a broad depth of knowledge and rental experience. The one thing that remains the same is our promise to manage each property as if it were our own.
We want to maximize your income by keeping your expenses as low as possible. At the same time, Stone Path Realty strives to ensure the long term profitability for our owners by making sure the necessary maintenance tasks are properly completed to maintain the integrity of your quality rental property.
This essential balance takes experience as well as tried and trusted systems and procedures to ensure all of these aspects run smooth.
We can assist with purchasing residential investment properties, as well as with rehabs as your consultant, securing a quality tenant and subsequent management of the property. We can also assist with the sale down the road, if and when that time comes. If you own a residential home or property and are looking for a management team, look no further!
The Benefits Of Using Stone Path Realty
No hassle management
Owner statements
Industry leading marketing tools
24/7 maintenance request handling
Prompt Response to Tenant Requests
Low vacancy rate
Low time on market
Industry-specific local knowledge
What We Do As Your Property Manager
Fill vacancies
Advertise your rental
Handle tenant inquiries
Background and credit investigations
Application processing
Lease signing
Full service repair
Rent collection
Accounting
Coordinate Evictions
Why Choose Stone Path Realty
Stone Path Realty handles all the daily tasks associated with owning a rental home allowing property owners to focus their energy and time elsewhere. We regularly update you on your property's activities and provide our expert advice when you have to make major decisions.
Leah Dexter and Nate Turk personally have over 20 years of real estate and investment property experience and own 10 investment properties of our own. Residential Property Management is one of our core specialties. You can trust us to manage your property as if it were our own.
Stone Path Realty will complete a thorough assessment of the rental market for your home's particular area and neighborhood. We will also report the overall condition of your rental home and advise of potential upgrades that could increase the demand and rent. Our evaluation will include an accurate and realistic rental range in order to get your property rented as soon as possible to a quality tenant.
Properly marketing your rental home is essential for finding a quality tenant. The number one place people search from rental homes is online, which is why we invest a majority of our resources in strategic internet marketing through our website and dozens of specific advertising websites and through our numerous local real estate contacts.
Proper tenant screening is critical to a successful rental property; however, very few companies devote the necessary resources to fully screen prospective tenants. While Stone Path Realty certainly strives to promptly lease each property, we will not approve a lease application unless the applicant meets our standard leasing criteria designed to minimize the potential risk for you as the property owner. All too often we hear about landlords in horrible situations with destructive and non-paying tenants that most likely should have never been permitted to lease their rental home.
We meticulously process lease applications to determine the lease applicant's qualifications for rental. At the minimum, we obtain a full credit report, search eviction and criminal records, thoroughly verify rental/mortgage history, and validate stated income to analyze debt to income ratios. We actually take the time to fully analyze the lease applicant's financial viability to practically eliminate the risk of default. We have extremely low eviction rates in the local area, which is a testament to our diligence in seeking out and securing quality tenants for our property owners.
Our standard security deposit is normally equal in value to one month's rent. There are some instances in which a lease applicant might be conditionally approved based on a higher security deposit amount. As required by Minnesota Law, the tenant's security deposit must be held in our escrow account until the tenant vacates the property. A tenant's deposit is for damages only, not normal wear and tear and is not used as last month's rent. After Stone Path Realty completes the required move-out inspection, we compile the tenant's final accounting in order to accurately prepare the security deposit disposition, which is sent to the tenant within the time frame mandated by Minnesota Law.
Our proprietary lease agreement is very detailed to ensure proper compliance with the state's respective Landlord Tenant Law. Additionally, our lease agreement is updated in adherence to statutes' changes and routinely revised to properly account for the ever increasing demands of the property management industry.
Owner Payments and Recording
Rent is due on the 1st of each month. If the rent is not received by the end of the day on the 3rd, a late fee, as specified in the lease agreement, is also due and the tenant is promptly contacted to determine the status of the rent payment and if further legal action, is necessary.
Owner may elect to receive their monthly owner proceeds via check or direct deposit. Proceeds are disbursed on or before the 15th of the month provided your tenant made timely payment.
You will also receive a monthly statement at the end of each month. If any maintenance tasks were required, your monthly statements will include a PDF of the actual invoice.
Stone Path Realty diligently works to complete Year-End Accounting no later than the end of January, which will help you or your Accountant for tax preparation.
Stone Path Realty uses independent vendors to fix maintenance issues when they arise at your rental property. We vet these vendors to ensure they complete quality work at reasonable rates.
There is never an up-charge assessed for maintenance work. Your account is charged for the exact amount paid on the vendor invoice.
We fully realize that prompt responses to maintenance requests not only protect your investment but also keep your tenant happy. A happy tenant is much more likely to renew their lease agreement which makes your investment more profitable.
For rental property owners, one of the main issues people have with property management services is getting bound into a contract. If you are not satisfied with our services, you can end the contract at any time without penalty or cancellation fees.
Upon a tenant's move-in, we perform a thorough written inspection of the property. We document the condition of the property and go over it with the tenant. In addition, we take up to 200 pictures to help document the state of the property at the time of move-in.
As your tenant's lease agreement approaches its end date, Stone Path Realty contacts your tenant to coordinate a renewal lease term. Turnaround costs between tenants is one of the largest rental home expenses an owner can have. We strive to have a great relationship with your tenant increasing the likelihood of a lease renewal.
When a tenant does move out of your rental home, we complete a detailed move-out inspection accurately documenting the property's condition via photos.
10 Reasons
to Hire a Property Management Company
If you've owned income property for any length of time, you know that managing a rental can be financially rewarding. At the same time, you've also likely discovered that property management requires a large commitment of time and effort.
While it may make sense to take the do-it-yourself approach if you're a handy person, live close to your property, and don't mind devoting several hours per month to the task, in many cases this just isn't practical. With this in mind, here are some critical tasks a property manager can help you with:
Setting the right rental rates: While looking through the classifieds to see what other landlords are charging for similar properties is a fine way to ballpark your rent price, a good property management company will conduct a thorough market study in order to set a rental price for your property, ensuring that you achieve the perfect balance between maximizing monthly income and maintaining a low vacancy rate.
Collecting and depositing monthly rent payments on time: If you've ever worked in a billing department, you know that securing payment from clients can be difficult, not to mention awkward. Property management companies have efficient, tried-and-true systems in place to effectively collect rent and maintain on-time payments. You'll find this particularly important if you have a limited number of properties, and collecting payments on time is crucial to maintaining your cash flow.
Marketing and advertising your property: Through long experience, a property manager will know exactly where to market your property and how to craft compelling advertising materials---a significant advantage when it comes to filling your properties quickly and avoiding long vacancies.
Finding the right tenants: Experienced property managers are experts at finding good tenants, and will take care of all the details, including the securing all criminal background and security checks, running credit reports, verifying employment, and collecting previous landlord references.
Managing tenants: In addition to finding good tenants, a property management company will manage all aspects of the tenant-landlord relationship. The property manager will handle both routine and emergency maintenance, take care of routine inspections, and manage any situations where conflict resolution is required.

Managing vendor relationships: Property management companies have relationships with maintenance workers, tradesmen, contractors, suppliers, and vendors that it's almost impossible for an independent landlord to duplicate. Not only will your property manager get you the best work for the best price, they'll oversee any necessary maintenance projects.
Ensuring that you're in compliance with housing regulations and property laws: There is a multitude of applicable laws and regulations to abide by when renting and maintaining your rental property. These include local, state and federal regulations, as well as fair housing regulations (such as the ADA). A property manager can help you avoid lawsuits by keeping your property up-to-date and in compliance with these regulations.
Enabling you to invest in geographically distant properties: If you manage your own properties, you're pretty much limited to investment opportunities within a tight radius of your own home. By hiring a property manager, you can take advantage of investment deals in any location you wish.
Maximizing the profitability of your time: By having a property manager take care of the day-to-day aspects of running your income property, you're free to spend your time identifying further investment opportunities or otherwise furthering your career.
Maximizing the profitability of your money: Most property managers charge a percentage of your property's monthly rental rate in exchange for their services. The rate typically runs anywhere from 6-10%, which is generally less than the money you save by hiring a professional to take care of your property.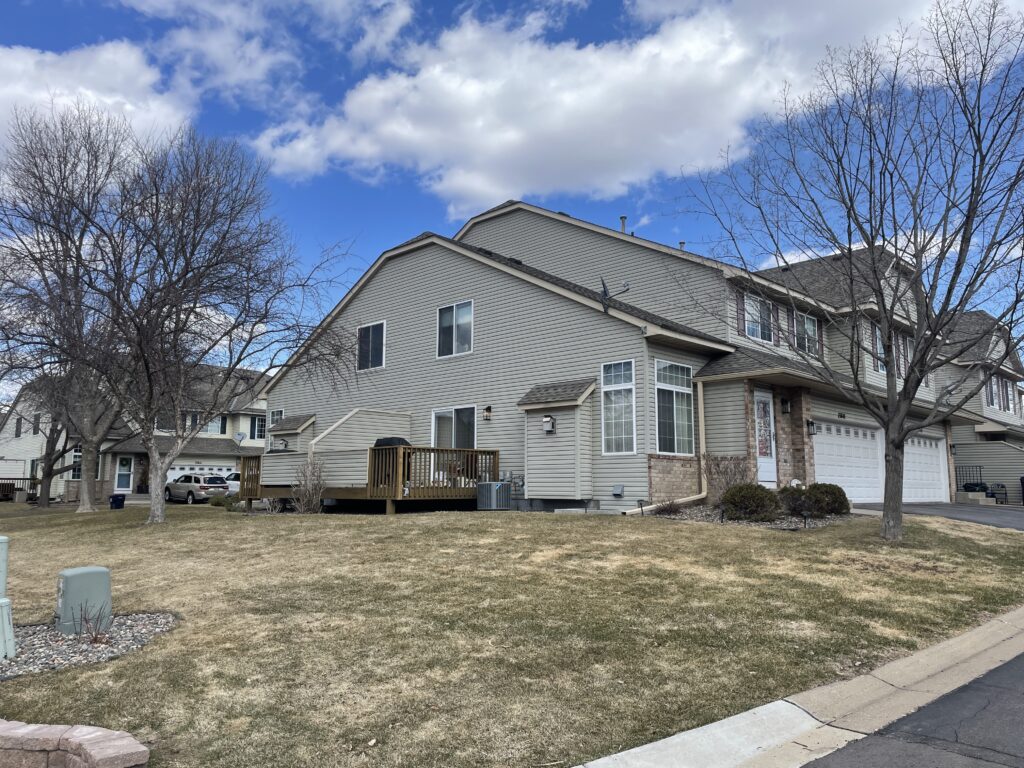 Townhome •
Rented
2150
/month